How to Set Up a WordPress Website (Take 2)
Note: This post on how to set up a website contains my affiliate link to SiteGround.
On April 12, 2016, I published a blog post featuring a step-by-step tutorial to getting started with WordPress and setting up your site. At that time I was recommending BlueHost and so my tutorial was based on signing up with BlueHost.
Since that time, I switched hosting for my site (discussed in my FB Live here) and I have been LOVING SiteGround hosting. So I thought it was time to create a new tutorial and post with how to set up your website with SiteGround. It's just as easy and honestly not much different really overall.
Why SiteGround?
Well go back and read the post I wrote about why I switched for the long answer. But in short – SiteGround has great support, infrastructure, security, and they are just really cool people (yep, I met some of them in person at WordCamp US 2016 in Philly PA).
I have used other hosting companies in the past and most have an easy WordPress set up, but there is so much more that makes a hosting company a good choice for your site. In the past I went with what seemed the most user-friendly, but now I know that my readers and clients need the robust features offered by SiteGround. Every new site automatically gets an SSL certificate and they automatically update WordPress core for you. I really like their mid-tier plan "GrowBig" because of the amazing premium features like backups (Seriously, you NEED them), caching (makes your site load faster), and priority tech support.
Read on to read the step-by-step instructions to get set up. (Keep in mind the screenshots and instructions here were created at the time I wrote the post. In the future they may update their signup process. Hopefully this will still be helpful and relevant if that happens. If you note any deviations from this tutorial, please contact me and let me know what was different and I'll update this post!)
How to set up a WordPress Website: Part I (Hosting Sign Up)
Hopefully in the future I'll do a video walk through. For now here are text/screenshot instructions on how to set up a WordPress website 🙂
Step 1. Go over to SiteGround & Select Your Plan
The first step when setting up a self-hosted WordPress site is to sign up for hosting. So go over to SiteGround and navigate to the WordPress Hosting section (WordPress Services > WordPress Hosting). Or just use my link to get right to the WP Hosting Page
Here you will see the 3 hosting plan options available: StartUp, GrowBig (recommended!), and GoGeek. GrowBig has really good premium features that I think are super beneficial for WordPress newbies, so go there.
Step 2. Your Domain Name
Next, you are presented with 2 options. Either you already have a domain name (that's your .COM name) or you need to register one. So put in your domain name and click Proceed.
Step 2. Complete Checkout
You know the drill, fill in your personal info and payment info. Pretty self explanatory.
Then when you get to the bottom, you are presented with some options and add ons. First off, you choose where you want your servers located (pick the data center closest to your target demographic / market). And choose your hosting period. Unlike other companies, SiteGround offers their best price no matter if you go with 1 year or 3. So just pick and move along!
Extra Services: Add what you want.
SG Site Scanner is a good deal compared to many other malware scanning options. So if you feel you want extra security and peace of mind, go for it! I personally don't have it but I'm pretty careful with the plugins I use, keeping my site updated, using strong passwords, etc etc.
Agree to the terms and complete checkout and WOO HOO! You're IN! Now it's time to set up your WordPress site inside your hosting account.
How to set up a WordPress Website: Part II (Install WordPress)
SiteGround offers a easy installation wizard for setting up your WordPress website. I recommend you utilize it for a simple and smooth installation.
Step 1: Log in to SiteGround's Customer Area
After you sign up for hosting, you'll be able to access the customer area. You should get a pop up that looks like this:
So to get started easily, choose to install WordPress and Proceed.
Step 2: Set up your Website Login info
Next, you'll set up your login for your WordPress website.
IMPORTANT SECURITY TIPS:
Don't use "admin", your first name, or your email address for your username.
Choose a very strong password, avoiding dictionary words if possible!
Step 3: Pick a theme, any theme
Seriously, it does NOT matter. I 99.99% guarantee you will be changing this later because honestly, all these options are terrible and there are much better themes *cough Beaver Builder cough* out there.
Step 4: You're All Set!
Congrats! SiteGround will now provide your login url, username, and password.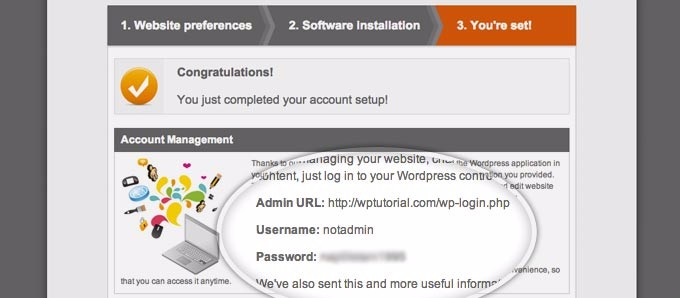 FYI: You can always access your WordPress admin area by going to yourwebsitename.com/wp-admin
Enter your username and password into the box that looks like this:
Congratulations! *In my best The Price is Right voice* You're the proud owner of a BRAND NEW WEBSITE! (ok not as cool as a new car. or is it? Maybe after your wild business success you can buy yourself a new car? Ok I digress.)
Let me know how it goes in the comments!
Would you like a roadmap to  help you get started on your website? Grab your Free Website Launch Kit with Build, Pre-Launch, and Post-Launch Checklists, Plus Tech Recommendations and Free Design Tools & Resources!